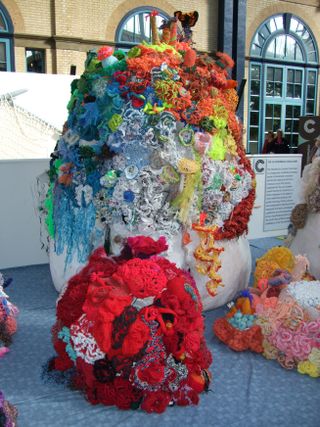 The first thing that greeted us at the Knitting and Stitching show was the UK reef part of the Institute for Figuring's Hyperbolic Crochet Coral Reef project. I'd missed this when the original reef was at London's Hayward Gallery earlier in the year so was thrilled to be able to see it up close. 
This version was co-ordinated by the
Craft Council
and was inspired by the original reef's London exhibition. I won't even try to start trying to explain the mathematics behind 
hyperbolic crochet
 as it just started to make my head hurt to be honest with you (and that's from me with an A-level in Further Maths)!
The UK reef certainly looked good though, particularly the little creature I found in this bit.