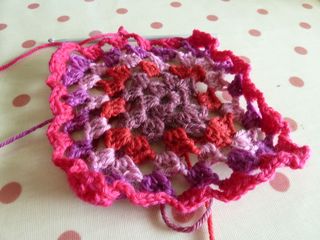 Yesterday I went a bit mad at the Rose & Dylan closing down sale and treated myself to loads of lovely yarn. For a few weeks now I've also been desperate to get my crochet hooks out again. It's been ages since I did a beginner's crochet course and to be honest since then I've hardly done any. I've been dreaming though of Granny Square style blankets so as soon as my stash was increased I brought out 200 Crochet Blocks for Blankets, Throws and Afghans
and started choosing block patterns.
I've started with a simple granny square and was amazed at just how quick it was to finish. The slightly scary bit is working out just how many squares I would need to make a whole blanket!