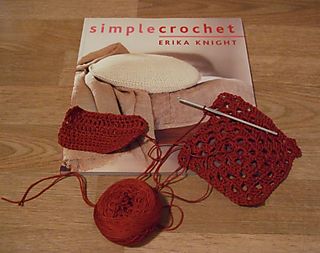 I've been wanting to learn how to crochet for ages, so today I took a day off work and did just that.
I'd booked myself a place on a 
Rowan
 beginner's crochet course that was held in the Brent Cross 
John Lewis
 and had a fantastic time. There were only six of us on the course (they limit the number of places to eight so that enough one-on-one tuition and help can be given) and I found that I was able to learn so much. 
I'd tries teaching my self from a book a couple of times, but after the basic chain I just found myself getting so confused about what to do next. Our trainer explained everything so simply and hence it all now makes sense! We were all provided with a hook and a yarn and were taken through everything from starting chains through to the afghan square that you can see on the right hand side in the above photograph.
Whilst on the course quite a few of us asked about good books to help beginners when they forget the useful things that they learn on the course and also with some nice simple crochet patterns in them. The recommended solution was 
Erika Knight's
Simple Crochet
. This book contains some fantastic step by step instructions for learning to crochet, along with some fabulous clear photos of each step. The patterns look fantastic and simple, and use a range of materials instead of just yarn (parcel string, fabric scraps and leather thronging for instance!)
If you're looking for a book to teach yourself then I'd highly recommend this one. I don't think anything quite beats going on a course though and the Rowan one was certainly excellent and also very good value for money.